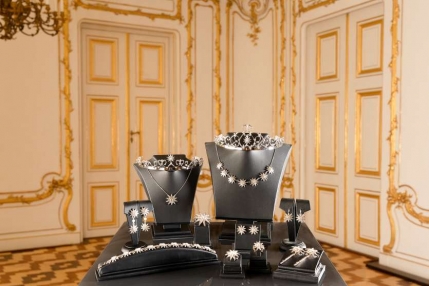 Empress Sisi was known for her breathtaking hairstyles and elegant style. Her hair was her trademark and she adorned it with the most beautiful hair accessories. Our collection has been carefully selected to give you the opportunity to recreate this look and create your own style.
We offer a variety of hair accessories, including hairpins, hair clips, diadems, and tiaras. Each piece is carefully handcrafted and adorned with sparkling crystals, pearls, and other high-quality materials.
Our hairpins are perfect for holding small strands of hair and adding subtle elegance to your look. Our hair clips are ideal for side-sweeping your hair and adding a touch of glamour to your look. Our diadems and tiaras are the ultimate accessories to show off your royal side and give your look the finishing touch.
Our Empress Sisi hair accessories are not only perfect for special occasions such as weddings, balls, or other festive events, but also for daily use to add that certain extra something to your outfit.
Browse through our collection and be inspired by the beauty and elegance of Empress Sisi!